Stephen Curry is one of the greatest basketball players in the NBA and has even revolutionized the sport with his legendary 3-point shot.
Stephen Curry is a highly decorated player of the sport with 29 awards and a 7-time NBA All Star player in just 11 years as a pro player. Considering his achievements in the sport, it is not surprising to find that he has started a masterclass course on shooting, ball handling, and scoring.
Whether you're someone new to the basketball industry who wants to learn all the necessary skills of basketball or if you're a seasoned player that needs to improve your shooting form, Steph Curry's MasterClass might just be the right solution for you.
In our Steph Curry MasterClass Review today, we will be talking about what's taught in this masterclass and whether it's suitable for you.
Stephen Curry MasterClass: Shooting, Ball Handling, and Scoring Quick Summary
Steph Curry's MasterClass teaches you:
Basketball fundamentals and some advanced tips for mastering core techniques such as shooting, dribbling, rim shots, and more.
Effective drills for each of these techniques to help you develop a daily practice routine.
How to apply these drills and techniques in a live game.
How to build your confidence as a basketball player and to deal with performance pressure.
Importance of film study and why you should do it.
Length course: 3 hours and 41 minutes (17 video lessons)
Best for: Beginner basketball players or intermediate players who want to improve their shooting form, shooting skills, and learn solid fundamental techniques. This is also great for a basketball player who wants to learn how to develop an effective training routine or form shooting practice.
Overall: Stephen Curry MasterClass is a fantastic, highly technical course that teaches a number of essential basketball techniques and how you can train them. The attention to detail provided by Stephen Curry in his course is brilliant with plenty of explanations of the mechanics, biomechanics of techniques, and even common mistakes and how to avoid them.
The training routine provides a great learning curve that can be implemented into your practice straight away. While seasoned players might find that some of the information is a little too basic, the course is still a fantastic resource for anyone getting into the game or an intermediate basketball player who wants to improve their skills.
About Stephen Curry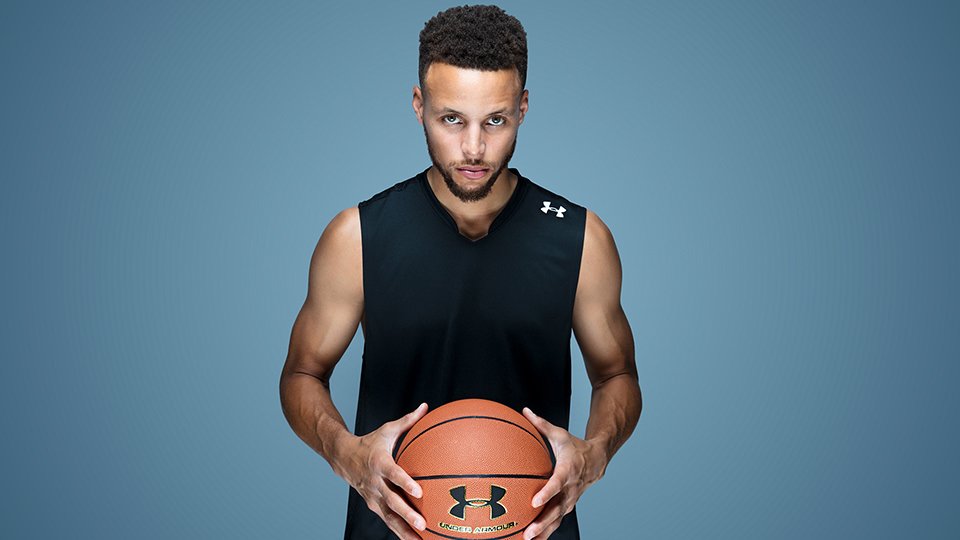 Stephen "Steph" Curry, also known as the point guard for the Golden State Warriors is well known for his impressive skill as a shooter every time he's on the court. His accolades include being a 7x NBA all-star, NBA 2 time MVP and has even won 3 championships whilst playing with the Golden State Warriors.
On top of his achievements, Steph Curry has made his mark on modern basketball with his use of the three-point shot consistently that's given him a huge edge over many other point guards and has inspired many other players to improve this underused shot.
Even NBA superstars like Steve Nash and Dana Barros have named Steph Curry as the greatest shooter in NBA history or basketball history.
Inside Stephen Curry's MasterClass
What you get from the Stephen Curry MasterClass:
17 video lessons with a total of 3 hours and 41 minutes of run time.
54-page workbook with step-by-step techniques, drills, and practice routines.
What You Need for the Course
The requirements to start this course is quite minimal but you'll need the following to get the most out of this course:
Two basketballs
Access to a basketball court
A tennis ball
A friend or a chair.
Steph Curry's MasterClass Video Lessons
The 17 video lectures are approximately 10-20 minutes long and focus on different aspects of basketball, such as shooting, dribbling, and other advanced techniques like using off- or on-ball screens. Every drill is introduced step-by-step in an empty gym to show you what to look for and what common mistakes to avoid.
Steph Curry even includes some film sessions where he breaks down plays from the Golden State Warriors to show you how the techniques he taught can be applied or learned in an NBA game.
Lesson 1: Introduction
In the first lesson, Steph Curry introduces himself and talks about what inspired him to become one of the best basketball players in the world. Here he shows how hard work pays off even if you're not the biggest or more athletic player.
Listening about how he used the low points in his career (such as when he was not being heavily recruited out of high school) and how he turned it into motivation to become the player he is today is really encouraging. The 5-minute introduction video is a great start to the course and gets you pumped.
Lesson 2: Shooting Stance, Alignment, and Mechanics
The second lesson is about 15 minutes long and is where Steph teaches all about the mechanics of shooting a basketball. Throughout the video, Steph Curry emphasizes the need to shoot from "the ground up" and how important the stance of your feet and lower body posture is. He also explains proper ball positioning such as where to aim, the height of the release, and the angle of the shot.
The video lesson doesn't only include slow-motion videos from one of the best shooting mechanics of all-time, but Steph Curry also talks about the most common mistakes and what you can do to correct them. Steph Curry also shares how it took him a whole frustrating summer and thousands of shots to change his shot from a lower release "catapult shot" to shooting above his head.
Lesson 3: Form Shooting Practice
Steph Curry then shows you how to work on your shooting form in this video. He talks about how it's better to start your workout by making 100 perfect makes from different angles at a close range instead of jumping straight to making three-pointers.
It's important to work on perfect mechanics at close range before extending your shots to the perimeter. Another good thing about this video is Steph Curry's tips on how to practice your shot if you're alone in the gym and how to learn from your misses by checking whether you're missing left/right or short/long.
Lesson 4: Shooting off the Catch
Stephen Curry teaches shooting off the catch – his biggest strength, in this video. He explains how to receive the ball in a shot-ready position, how to move your body to the ball, and how to avoid common mistakes. This also happens to be the first lesson where we get to see how watching a film can improve your game and provide a better understanding of a few techniques.
Lesson 5: Ball-Handling: Foundations
Lesson 5 is where Steph Curry concentrates on dribbling skills by showing basic concepts like dribbling stance, dribbling height, and how to keep the basketball away from your own feet.
He then moves on to teaching the three most important dribbling moves: crossovers, between-the-legs, and behind-the-backs while also showing common mistakes made like dribbling too high, too softly, or moving your body around the ball instead of the ball around the body.
Lesson 6: Shooting off with the Dribble 1
After you master dribbling, you'll need to learn how to transfer your off-the-catch shooting mechanics to shooting off the dribble with a strong last bounce and getting the ball into your shooting pocket quickly. He also touches on the mindset you need to set as a shooter, how to keep confidence in your shot, and how to impact the game if your shot is not falling.
Lesson 7: Ball-Handling: On the Move
This video lesson is a slightly shorter video where Steph explains how to work on basic dribbling moves learned in the earlier video, but this time on the move. The key to this is to stay in a low stance, lead with the ball – not your feet, and avoid glancing at the ball. The workbook for this section even includes a ball-handling circuit to improve your handling.
Lesson 8: Shooting off the Dribble 2
In this lesson, Steph Curry's students learn advanced moves like shooting off crossovers or behind-the-backs by combining the previous ball-handling skills and shooting drills. A great highlight about this lesson is when Steph Curry breaks down NBA in-game action and tells us his thought process during the game.
Lesson 9: Create Space from Your Defender
Another aspect of getting your ball shot-ready is to create enough space from your defender by looking at their feet, hands, and nose to determine weak spots and possible moves. Steph Curry shows a series of jab steps, dribbles, and step-backs that he uses to shift the weight of his defender and to get him off-balance.
Lesson 10: Beating Your Defender
This entire video lesson is dedicated to watching an NBA film while a 2x MBP explains his moves and tells what he was thinking during a game. It also proves that it's not always about making flashy moves but more about understanding the basic principles, reading the footwork of your opponent, and using his weaknesses to your advantage.
Lesson 11: Ball Screens
Ball screens are an important part of every NBA team's strategy and Steph Curry is one of the most dangerous players coming off a screen. Steph emphasizes how important it is to communicate with the screener, where and how to set screens, and how to react to your defender's actions.
Lesson 12: Ball Screens – Film Sessions
Here's another film session where Steph Curry breaks down 4 different ball-screen plays and explains how you can read the floor, your defender, and potentially help the defense to make the best possible decision. He also illustrates how you can turn a hand-off into a ball screen.
Lesson 13: Scoring at the Rim
In this lesson of Steph Curry's MasterClass, he teaches you how to protect the ball when scoring at the rim and how to use your shoulders to create separation between you and your defender. Stephen Curry teaches different moves like reverse finishes of a euro-step or different types of floaters and how he uses them in-game.
Lesson 14: Off Screens: Curl, Pop, and Fade
While off-ball screens are less flashy than on-ball screens, they're just as important and Steph Curry shows us three different options on how to use them:
Curl to the rim: Get off the screen and cut towards the basket, receive a pass and read the help defense to decide if you're going for a jump shot, layup, or a floater.
Pop: Use the screen to get to the three-point with a straight line cut.
Fade: If your opponent tries to cheat and go under the screen, you can fade away from the screener to create separation.
Lesson 15: Ball Handling: Overloading
If you're a basketball fan and have been following the game, you might have seen Steph Curry's pre-game dribbling drills with two basketballs. This technique is called overloading and it works on your dribbling skills with an additional basketball or tennis ball to increase difficulty and intensity to overload your current motor skills.
Once you've mastered these drills, dribbling with one basketball will become so much easier than the game appears to slow down for you and you can use all your attention to watch your teammates and defense instead of the ball.
Stephen Curry goes through the lecture video progressively from a relatively easy stationary drill with two basketballs before moving on to more difficult drills on the move with basketballs and tennis balls. The supplementary workbook also contains the exact progression that you can use during warm-ups.
Lesson 16: Pregame Preparation
Stephen Curry talks about how important it is to prepare for a game the right way with enough rest, stretching, eating right, and watching tapes of the opponent. He then also talks about his famous pregame dribbling sequence, mindset, and what he does to calm his nerves before a game.
Lesson 17: Conclusion: the Journey Towards Perfection
In the last lesson of Steph Curry's MasterClass, Stephen Curry talks about how he stays motivated to work hard, and how he pushes himself to become the best player he can be. The main takeaway of this lesson is that you need to love the process since you're going to have to work incredibly hard.
It's difficult to be successful if you don't enjoy the process of shooting thousands of shots, getting up early to lift weights, or spending an hour stretching after every game.
You might think that NBA players are just extremely gifted and that the game comes easy to them but that's far from the truth as they work extremely hard and try to improve their game every day.
Favorite Lessons from the Course
Stephen Curry has tactfully broken down all the necessary basketball skills into 17 well-planned chapters to help you improve your game. The entire MasterClass creates impressive imagery of the sport with certain portions that are exceptionally good. Here are some of my favorite aspects of the course:
Teaching you how to have perfect control of your basketball
Stephen Curry emphasizes a lot on body posture in his video lessons. For example, in some exercises, he will tell you to make sure not to move your nose too much as it will cause your head to be in the wrong position, which could cause your body weight to not be distributed properly.
He even includes a step-by-step ball handling guide in the workbook that's designed to be easy-to-follow and supports players at all levels. His shot-ready video teaches you how to:
Catch the ball shot-ready
Move your body to meet the ball
Maintain a consistent ball path
How to avoid some common catching and shooting mistakes
Stance, alignment, and mechanics
Just like in other sports, the secret to success is to first build a solid base – which means to start from the basics. Stephen's course is carefully thought-out and in-depth that's curated for you to dip in and out. It almost feels like having a top-class coach next to you as he teaches you the following:
Shoot from the ground up.
The right way to load your lower body.
How to avoid lower body stance and mechanics mistakes.
The right way to position your hands.
Where to aim when shooting.
Avoid mistakes players make while releasing the basketball smoothly.
Stephen Curry MasterClass Review
What Was Good About It:
Steph Curry is a Great Teacher
Despite being relatively small at 6'3" compared to other NBA basketball players and the fact that he isn't extremely athletic, he has gone on to become one of the best basketball players in the world by perfecting two basic skills: shooting and dribbling.
Not only is he great at ball handling, but he has a great presence in front of the camera and can clearly explain the techniques and drills in detail without being too boring or mechanical.
High-Quality Technical Instruction
One of the best things about Steph Curry's MasterClass is how he spends a lot of effort explaining exercise techniques to beginners to teach them great shooter techniques and other skills from an online learning platform. Steph's explanation of the techniques is clear and concise with the addition of pointing out common errors in the basketball court.
Stephen Curry doesn't just teach how to play basketball but he also teaches why the techniques are performed that way. Every form point taught in Stephen Curry MasterClass includes an explanation to back it up. This MasterClass also emphasizes how it is important to master the basic principles and to start off every training session by making 100 perfect shots from close range.
Manageable Content Structure
All the lessons presented in Steph Curry's MasterClass course are linked back to these fundamental movements. Even as more complex combos and techniques are introduced, they're all in service of getting you to your shot position.
Once you master your shot position and shooting mechanics, you'll begin to understand the foundation of Curry's system and you can start building off from there to include other skills like dribbling and using ball-screens.
High Quality Supplementary Workbook
Some MasterClass courses have workbooks that feel a little bit of an afterthought with obviously less attention paid to it. However, this is not the case with Steph Curry's MasterClass.
The workbook includes Curry's various suggested practice routines and even a number of diagrams that expand on the points that Curry makes during the course, such as court diagrams for better visualization of the rim shot techniques.
The supplementary workbook is a well-made resource that really enhances the content in Steph Curry's MasterClass rather than just repeating the same thing in text.
What Could Be Better:
Lack of Some Details
While most techniques are well covered, there was one particular lesson on creating space from the defenders here Steph showcases good techniques but does not have any suggested drills or practice tips. While this is the only lesson like this, it's also quite baffling as to why the lesson came out the way it did.
More Focused on Beginners
While all the techniques taught in this course are well-explained and detailed, Steph Curry's MasterClass might not be suitable for everyone. The techniques taught are very fundamental and while advanced players may still benefit from the tips given, it is clear that the content was created for beginners in mind.
With that being said, intermediate players and even advanced players will still find the drills, tips, and ideas from the course useful to help them improve their game. Beginners may also find that this is a world-class crash course for basketball shooting.
No Lessons About Defense
Many beginners tend to forget that they need to play defense in basketball too and being a good defender is just as important as being great on offense albeit a lot less flashy. Steph Curry himself is a good defender and has played with a lot of defenders on the Golden State Warriors that do most of the work so that he can focus on offense.
Who is This Course for?
One of the benefits of this course is that it includes content for players of all levels. Even more advanced players may find a drill or form point that they can take to improve their own game. Nonetheless, most of the information in the course is aimed towards less experienced players and this is something that you need to consider before starting Steph Curry's MasterClass.
This course is best suited to:
New players who want to improve their shooting skills.
Casual players who want to improve their technique.
Players who want to improve the quality of their daily practice.
Anyone who wants to learn Stephen Curry's approach to improving basketball technique.
How Much Does the Steph Curry MasterClass Cost and Is it Worth It?
MasterClass's subscription costs $180 per year, which amounts to about $15 per month. With the annual all-access pass subscription, you get access to more than 100 courses on MasterClass for the entire year. The great thing about this all-access pass is that the more classes you take, the less the effective cost per class is.
Bearing in mind that these classes are taught by world experts, the courses offer unbeatable value. Not only that, but MasterClass even offers a 30-day refund if you're unhappy with your purchase.
However, you also have the option to buy the course individually as a gift at $90. So if you were to if is the Stephen Curry MasterClass worth it? The answer is yes if you want to know more about how to improve your techniques and skills in basketball.
Curry MasterClass Alternatives
Here are a few alternative online basketball courses that you can also watch to improve your ball handling techniques:
YouTube

If you've gone on YouTube, you'd notice that there's no shortage of basketball tutorials on YouTube and this is a great place if you want to get free resources.
The main disadvantage of using Youtube is the overwhelming volume of content available where beginner basketball players may find it difficult to know what to research and whether the tutorials are worth watching or not.
This is where the Steph Curry MasterClass offers an advantage where in exchange for the cost, you're also receiving high production value and a curated program. You can also view the entire curriculum from the site and see everything that you're going to learn from the course.
Nonetheless, if you want to give YouTube a try, you can consider ShotMechanics to work on your shooting form.
Udemy
Udemy also offers a basketball course called Basketball for Beginners with a rating of 4.8/5 on their site based on more than 300 students. Not only that, but the program looks quite similar to Steph Curry's MasterClass with topics on the basics of shooting and dribbling. The course is also significantly cheaper than MasterClass at $17.
The Skills
The Skills is a new online platform that provides online courses taught by sporting greats and qualified exercise coaches. However, unlike MasterClass with courses on all kinds of topics, the Skills specializes in sport-based courses such as soccer,f football, swimming, etc. as well as more general wellness courses covering topics like mobility, confidence, and motivation.
Currently, The Skills boasts trainers such as Michael Phelps, Megan Rapinoe, Larry Fitzgerald, and Shaun White, with more being added all the time.
What Others Have Said
No review is ever complete without taking a look at what others have said about the course. Here are a few comments from the MasterClass Community and Redditor:
"It's actually pretty great. Steph says a lot of useful things like creating space and describing game situations. I would give it a 10/10". – Comment from Steph Curry MasterClass Reddit.

"I didn't want to finish, I learned so much and now I am on the same journey as all of us". – Comment from the MasterClass Community.

"The form shooting tips and practice have been a huge win for my son David. His accuracy is up dramatically, as is his confidence with shooting the ball. He got a personal best 38 points this weekend including 5 three's. Thank You, Steph for breaking down your shot and emphasizing making 100 perfect makes. It works!". – Comment from the MasterClass Community.

"I can't wait to start to warm up and use the things I learned." – Comment from the MasterClass Community.
Is the Course Content Unique?
Whether the course content is unique or not is a rather complicated question since the majority of the information is accessible on YouTube, but the uniqueness of this course lies in its organization into a full program.
There are actually very few online basketball courses available with such high production quality or one that's curated by a basketball superstar. While basketball shot mechanics are not unique to this course, the training regimes and suggested practices are what sets this course apart from its competitors.
Final Thoughts
This MasterClass by Stephen Curry is a must for any basketball player. He takes you through the training program and practice routines that have helped turn him into the excellent shooter, ball handler, and player that he is today.
One of the best aspects of this course is how Stephen offers in-depth training activities with 12 staggered training sessions included in his workbook to take any player from zero to professional. While the course is designed for beginners, the training programs can also be especially useful to intermediates.
Stephen Curry shows you every move step-by-step on how you should do it before sharing a series of exercises that you can do to hone your skills. All in all, the masterclass is a single course that teaches you how to become the best player that you can be.