Since the pandemic, many people have discovered (or rediscovered) at-home projects, one such project is their love for gardening. Unfortunately, not everyone is blessed with a green thumb or has a natural talent for raising plants. Fortunately, Ron Finley's MasterClass sets out to help everyone develop their green thumb.
In the Ron Finley MasterClass, he guides students through the tools and skills required to grow anything in almost any space. With so many gardening tutorials available, is Ron Finley MasterClass the right one for you? In our Ron Finley MasterClass Review today, we will be talking about everything in this course to help you decide whether you should invest in it.
Quick Summary on This Gardening Masterclass
In this course, you'll learn how to:
Grow your own fresh food.
Get creative in a space and make it beautiful.
Appreciate the holistic benefits of nurturing a plant.
Identity your climate zone and create your own microclimate.
Understand soil and what you can do to improve and enrich it.
Create planters out of almost anything.
Use different techniques to energize, regenerate, or rescue plants.
Do propagation.
Pros
Ron Finley gives a direct and clear teaching style.
Carefully structured course with useful content.
Proves that you don't need a big space to garden.
A good demonstration of different techniques with a great selection of plants.
Cons
Relatively short course.
Lacking pest control management advice.
Ron Finley tends to curse a lot, which may offend some people.
Course Duration: 2 hours and 11 minutes (10 video lessons)
Suitable for: Beginners to intermediate gardeners who feel like gardening isn't for them.
Overall: Ron Finley delivers a motivating MasterClass that gives you everything you need to succeed in your gardening project.
What You Need to Start The Course
Here are a few essentials that you need to have to get started:
A set of hand trowels
Clippers (bypass pruning shears)
Soil scoop
Gardening gloves
A round point shovel
Once you're happy with the progress, you can consider investing in the following:
Hori Hori Knife
Serrated Knife
Cordless power drill (especially for making planters)
And a Folding hand saw
Who is Ron Finley?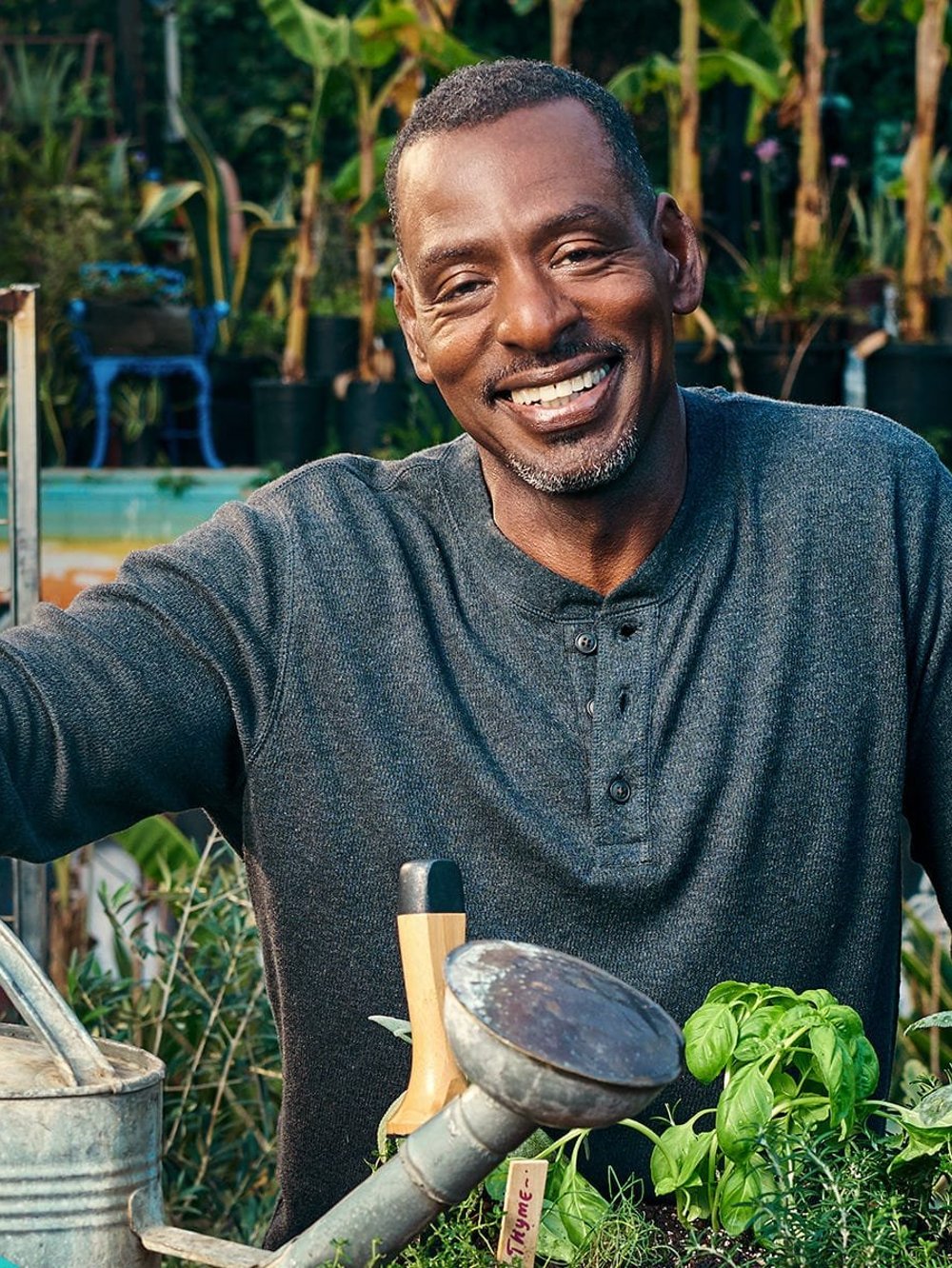 Ron Finley is a passionate gangsta gardener who understands how to empower plants, grow your own food, and beautify your surroundings. He is one of the world's leading guerilla gardening advocates and has fought to enable people to grow food along the curbs in the city of Los Angeles.
Ron Finley quickly shot to fame after his 'guerilla gardener' TED talk back in 2013 where he describes how he took on the LA Authorities and risked his freedom for the right to turn abandoned public land into fertile oases. Since then, his food forest movement has grown and transformed the lives of many people in the city, across America, and in other countries.
His message that "drive-thrus are killing more people than drive-bys", Ron Finley inspires people everywhere to take control of what they eat and defy fast-food giants. His main mission is to inspire the next generation to see gardening as a cool, 'gangsta' activity.
About MasterClass
MasterClass is an online learning platform that was founded in 2015 with a simple premise, which is to allow everyone the opportunity to learn from the best. All their courses are carefully curated from a pool of instructors across different disciplines.
With close to 100 classes from industry legends like Gordon Ramsay, Neil Gaiman, and Martin Scorsese, MasterClass Courses gives you the opportunity to learn from some of the biggest names across different industries from the comfort of your own home. The courses involve a series of videos and an accompanying workbook to help you develop and practice the skills you learned in the video.
Taking a Look Inside Ron Finley's Masterclass
The Ron Finley MasterClass contains ten video lessons that are between 5 to 20 minutes long each and runs for a total of 2 hours and 22 minutes. Below is Ron Finley's MasterClass lesson plan:
Meet Your Instructor
Planting a Revolution
Getting Dirty
Creating Planters
Grow Your Own Food: Greens & Legumes
Grow Your Own Food: Sweet Potatoes
Grow Your Own Food: Herbs
Increasing Your Bounty
How to Not Kill Your Plants
Finding Your Creativity
Lesson Summary:
The Ron Finley MasterClass is split into four main sections:
Meeting Your Instructor
Growing and Maintaining a Garden
Growing Your Own Food
Gardening for the Greater Good
Section 1: Meet Your Instructor
Almost every MasterClass will kick off with a short introduction about the instructor and the Ron Finley MasterClass is no different. The course starts off with Ron Finley talking about his absolute belief in the transformative power of gardening and explaining what he means by 'gangster gardener'.
Ron Finley lays out what he hopes the course will do for you and he treats the course as knowledge sharing. He shares his knowledge of how to "help mother nature do what she does" and transform wasteland into a promised land. In Ron Finley's MasterClass, you'll learn to:
Feel the power and magic of growing your own food.
Understand how to feed yourself and how to control what you eat.
Learn how not to kill your plants.
Share gardening lessons with others.
Section 2: Starting and Maintaining a Garden
Getting Dirty
In this section, Ron teaches how to turn sterile, nutrient-deficient soil into a fertile ground with various techniques. He first talks about how soil is "black gold" and how you need to match the right type of soil with the plant you want to grow. He also talks about how you can try bioremediation to decrease soil toxicity and enrich the compost with biodegradable scraps. Ron Finley also teaches how you can speed up the decomposition process by introducing earthworms.
In this class, you'll learn how to:
Work out what type of soil you have.
Turn the soil into the best growing medium.
Mimic mother nature's soil enriching process of composting.
Know what and what not to put into your compost.
Use worms to improve soil.
Test your soil for toxins and how to remedy it via planting.
While the course may use some specialist vocab, the good thing is that the words and phrases are explained on-screen with a helpful glossary section in the companion workbook.
Creating Planters
In this Ron Finley MasterClass lesson, you get to watch Ron take an everyday item and turn them into containers and planters. Ron shows how nothing is too small for a plant to grow on. Preparing your own garden begins with upcycling common household objects into plant containers.
He also takes the time to walk you through what tools you need to do this as well as other basic gardener tools. He shares what you need to look for when buying the right equipment and how to use them safely. He doesn't just talk about what you need to use, but he also includes what you should avoid, especially if you're planning to eat what you grow.
How Not To Kill Your Plants
Many people end up killing their plants when gardening because they simply do not know what to do and what not to do. In this section, Ron Finley teaches common mistakes made during gardening and what you can do to rectify them. To help you maximize your chances of gardening success, Ron explains the importance of:
Identify your climate zone and frost dates before you begin your project.
Assessing and understanding how to influence your microclimate.
Knowing how to use various techniques to energize, regenerate, and rescue plants.
Recognizing when a plant is under or over-watered – or not receiving enough sunlight.
Shopping for the healthiest plants.
However, another big reason why plants die is due to the presence of pests. This is an aspect that Ron seems to have missed out on despite being an ideal place for him to do so.
Increasing Your Bounty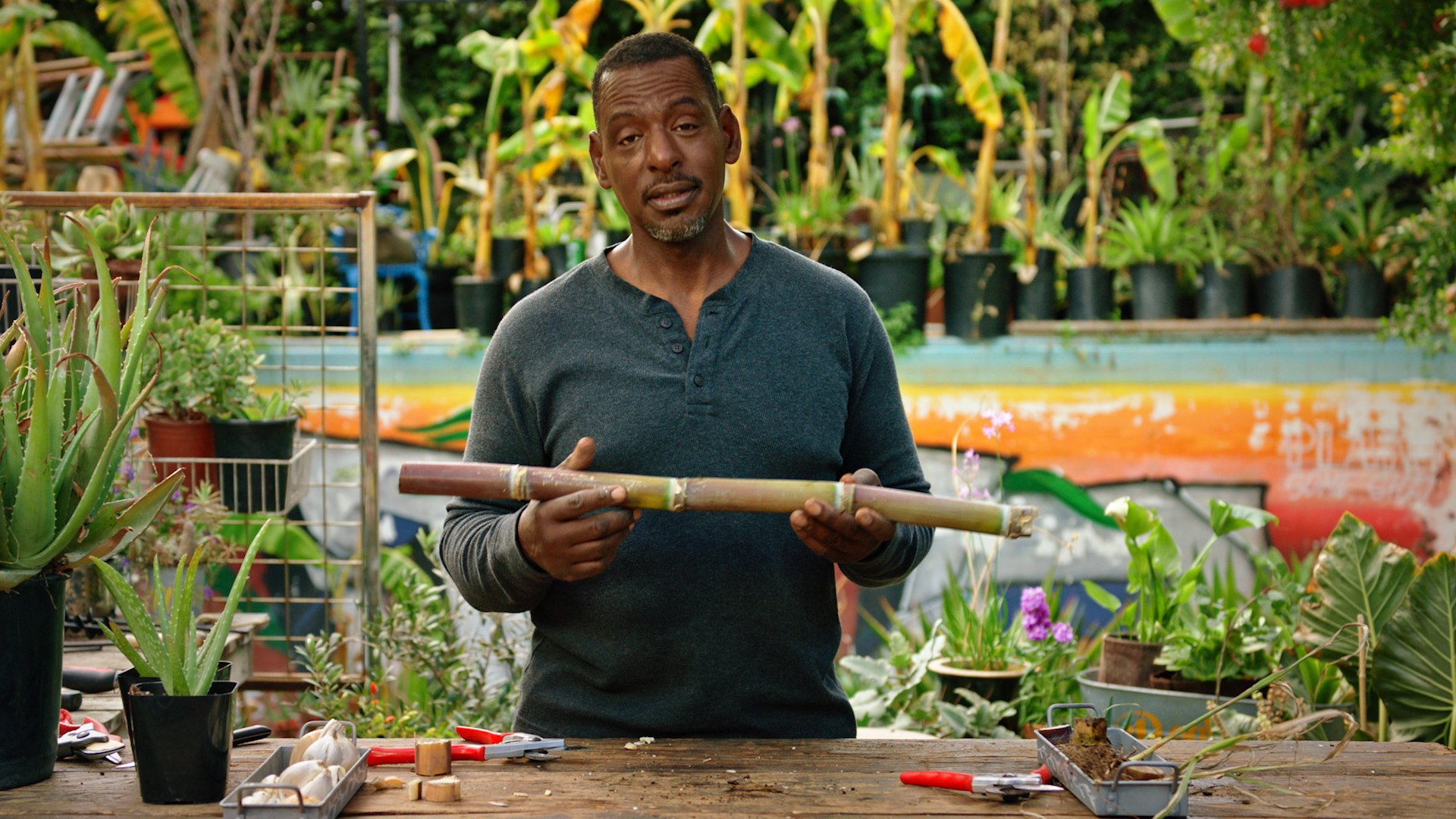 Ron Finley's amazing garden has been mostly created through propagation. He takes cuttings and uses several forms of propagation to grow one plant from another. Some schools may have taught this, but it seemed complicated. However, in Ron Finley's class, you'll quickly realize how easy it actually is. All you need to know is where to cut and strip the leaves and fruit to force the cutting to root.
In this Ron Finley MasterClass section, Ron demonstrates and explains how to multiply:
Fruit trees
Sugarcane
Succulents
All these types of plants use different propagation methods so that you get a chance to see different methods and techniques.
Section 3: Growing Your Own Food
In this section of Ron Finley's MasterClass, Ron talks about the basic principles of gardening and how to apply them. Probably the most exciting part about this section is how Ron dedicates different videos to teach you how to grow and take care of different plants. Ron Finley applies gardening principles to legumes, green vegetables (kale, sugar snap peas), herbs, and sweet potatoes. He discusses the range of vegetables and their nutrients.
Furthermore, he also carefully explains his decisions and actions so that you know and understand what he's doing. He also talks about the consequences if you do not do them. In this section, you'll learn how to plant, nurture, and harvest:
Leafy greens from seedlings.
Legumes from seed.
Sweet potatoes from both the vine and tuber.
Herbs from seedlings – a herb garden is good for beginners.
The most interesting part of this section is when Ron talked about how plants can be grown together with a symbiotic relationship. For example, sunflowers can be planted with peas as the sunflower provides a trellis for the peas. Ron Finley also briefly touches on pest control in terms of companion planting to repel certain garden nuisances.
Section 4: Gardening for the Greater Good
We finally reach the closing section of Ron Finley's MasterClass where Ron shares the story of David and Goliath of how he took on the system to challenge a law around cultivating public land. Listening to how he put his own freedom on the line to build healthy, happy communities is really inspirational.
Ron Finley also shares how you can convert an empty wasteland into a thriving food hub alongside your community and he also emphasizes how many have lost their food-creating knowledge thanks to unhealthy fast food chains. Ron Finley urges you to start growing your own food to make an impact on food producers' bottom line and force change.
As Ron ends his course, he reminds us that the need to be creative is an essential part of being human and gardening taps into our creative side.
Key Things I Learned
Ron Finley's MasterClass is one of the shortest MasterClasses available, and yet, it's one where you might take the most notes on. Here are a few key takeaways from the course:
The ideal soil is loamy soil, which is a perfect mix of sand (drainage) and clay (water retention) with a mix of broken-down organic matter for nutrients.
Good compost contains coffee grounds, hair, sawdust, eggshells, vegetables and fruit peels, and food scraps.
Legumes are able to pull Nitrogen out of the air and put it into the soil where it's needed.
You can eat the leafy greens from sweet potatoes and they're even highly nutritious.
You can use an old burlap bag and fill it with soil to plant sweet potatoes.
Understanding your own climate and how it can be affected by the proximity to other buildings and trees.
Favorite Quotes from Ron Finley's MasterClass
Growing your own food gives you power. Once you have it, it's something that can never be taken away from you. LESSON 1 – MEET YOUR INSTRUCTOR

Air is gangster as f*ck. You can't get no more gangster than air. LESSON 1 – MEET YOUR INSTRUCTOR

Beauty in, beauty out. If you put beauty into a space, that's what you're going to get out of it. LESSON 2 – PLANTING A REVOLUTION

Just because you have soil in your backyard really don't mean you can use that sh*t. LESSON 3 – GETTING DIRTY

If it can hold soil, I'm putting a plant in it. LESSON 4 – CREATING PLANTERS

The one thing that we need to exceed is man's need for greed and change that to man's need for seed.LESSON 8 – INCREASING YOUR BOUNTY

It's real simple. You got some sun, you got some soil, you got water, and you got a seed. Now, where do you want your beauty to grow from? LESSON 10 – FINDING YOUR CREATIVITY
The Good & The Bad of Finley's Gardening Masterclass
Good Parts
Direct and Clear Teaching Style
Ron's no-nonsense teaching style is snappy and engaging. He delivers his points in clear and well-explained methods for quick and easy learning.
Plants Can Grow Anywhere
Ron Finley's MasterClass proves that you don't need a garden just to grow plants. His container ideas are especially ingenious and even demonstrate how you can grow yourself a herb garden with just an old dresser. You can literally grow plants anywhere even if all you have is a window sill, tiny balcony, or cement yard.
Well-Structured Course with Good Content
The mark of a good teacher is to be able to predict pitfalls and help students avoid or navigate around them. Ron Finley provides a lot of useful tips on common mistakes and what you can do to avoid them. All his explanations are further backed with consequences of not doing so. The course also includes on-screen graphics and definitions to ensure a better and smoother learning curve.
Demonstrations with a Wide Selection of Plants
Ron carefully selects the plants he uses for demonstration in the Ron Finley MasterClass. Each one uses a different aspect of technique to show you the different ways of propagation and to give you a thorough insight into the art of propagation.
Key Takeaways Highlighted
Most lessons have key takeaways highlighted at the end. This is super helpful, especially considering the fact that each video in Ron Finley's MasterClass offers a lot to take in.
Good Balance of Theory and Practical
Gardening is a practical activity but some theory knowledge is required to support successful gardening. And Ron does a great job at explaining the steps and actions he demonstrates in Ron Finley's MasterClass and what would happen if you don't do them.
Clear explanations help you avoid common mistakes and to keep progressing with your project. The supplementary workbook also provides additional in-depth information on the gardening theory.
Helpful Supplementary Workbook
The 41-page workbook is a great companion to the course with detailed information on the topics covered in Ron Finley's MasterClass. It also includes glossaries of terms, links to seed catalogs, and other helpful diagrams to assist in your gardening decision. The workbook also has a few assignments to help you get started with a good chance of success.
Strong Community
The community of learners from Ron Finley's MasterClass is an energetic bunch who are more than keen to share their opinions and advice. This is possibly one of the most engaged communities of all the MasterClasses.
Parts That Could Be Improved
Not Much On Pest Control
Many experienced gardeners know that all your best efforts can be rapidly undone by pests and diseases. While Ron briefly talks about picking certain plants to deter pests, he does not cover anything else on pest control and disease management.
This would've been a very important topic for gardening and hopefully, it could be a Ron Finley Teaches Urban Gardening MasterClass Part II.
Relatively Short Course
Out of all the other MasterClasses I've taken so far, this has got to be the shortest one. Despite being relatively short, it is packed with a lot of information and it's quite fast paced. The course is also well supported with a workbook. But if you need a longer course, then this might not be the one for you.
Ron Finley Cusses A Lot
While the cussing does not bother me and it's part of his charm, some may take offense by the bad language. Ron Finley's MasterClass might also not be a good choice if you're planning to watch this with the kids.
Who is this Gardening MasterClass for?
Gardening is a very inclusive activity that almost everyone can appreciate Ron Finley's MasterClass. His easy-going explanations of practical how-tos offer a lot of you to learn from, making Ron Finley's MasterClass a great course for people who:
Are curious about gardening but simply do not know where to start.
Are passionate about plants and gardens.
Want to learn gardening their own food.
Have some gardening experience but not in urban areas.
Have zero interest in gardening but are willing to be persuaded.
Want to grow plants and/or food in limited or unlikely space.
Is a beginner with limited gardening experience.
Interested in growing a herb garden.
One important takeaway from the Ron Finley MasterClass is that you don't need to have green thumbs in order to succeed. He suggests that since we share a lot of biological processes with plants, all of us can understand their complexities and learn how to maintain them. Ron Finley also corrects the notion that plants need a lot of space to grow with his container projects. The Ron Finley MasterClass really proves that anyone can grow their own food, even if it's just on a window sill, a tiny balcony, or a cement yard.
One of the main reasons that make Ron Finley's MasterClass is engaging is Ron's snappy and no-nonsense style of teaching where he goes over the points clearly and explains everything in easy-to-understand concepts. Each lesson builds up your knowledge as he shares useful tips on what to do and what not to do. In addition to gardening, Ron Finley also offers a lot about the spiritual and psychological benefits of growing your own garden.
However, if you're looking for a course that teaches pest management, you might be a little disappointed and these topics were only briefly addressed in Ron Finley's MasterClass. And while a short and breezy course is nice to go through, it would've been slightly better if Ron had taken a little more time to include pest management and plant diseases.
How Much Does it Cost?
Just like every other MasterClass course, each member is presented with two options. You can either buy the course on its own for $90 or you can opt to pay for a year of all-access pass subscription to every course on MasterClass for $180 a year.
Option 1 – $90 for a Standalone Herbie Hancock's MasterClass
The course itself is around 2.5 hours and if you break it down to an hourly rate, Ron Finley's MasterClass ends up costing a rate of $36 an hour. That's a very competitive price compared to joining a gardening class, let alone learning from one of the greatest urban gardeners alive. The course offers an unbeatable value, especially since you get to learn at the comfort of your own home and at your own pace. You can choose to take as much time to pause and practice as you need.
To buy this course individually, you'll need to buy it as a gift, and gift the course to yourself. Furthermore, you get lifetime access to Ron Finley's MasterClass, meaning you get to dip in and out or revisit it anytime you like.
Option 2 – $180 a year for a MasterClass Subscription for the Whole Year
The second option to getting access to Bobbi's MasterClass is by subscribing to an annual all-access pass for $180. This works out to be about $15 per month for an all-inclusive access pass to lessons by the best experts in the world.
This subscription will give you access to an excellent cooking course by Gordon Ramsay, jaw-dropping game of poker by Phil Ivey, jazz piano lessons from Herbie, and how to be a comedian by David Sedaris. There really is something for everyone. As long as you're able to find at least 4-6 courses you like from the website, you're effectively only paying $30-45 per course.
MasterClass is an absolute goldmine of information with courses taught by world-class experts at a very reduced price. Nonetheless, if you're worried about the commitment, the website includes a refund policy just in case you decided that the course is not suitable for you.
What Others Have Said
No review is complete without considering what others have said about the course. A quick search online has resulted in a few interesting points:
"Why I took this class instead of just looking at youtube videos is that it offers a structure to beginners.
There is SO much available already on the internet but production is usually poor (phone camera at awkward angles etc), instructions often rambling and speed of steps too fast.
It is also really hard to find the right videos when you are a beginner and don't know the terms for things to search for (eg propagation)." – Comment from the Ron Finley MasterClass community

"Really good Youtube videos are hard to find. I hate having to sit through a commercial and then six minutes of "here's who I am, what I do, here's my resume, blah blah blah," only to find out it isn't what you actually wanted. I think Masterclass is an exceptional learning venue." – Comment from the Ron Finley MasterClass community

"It was OK. I would have liked something more in-depth. He's got a good story and philosophy. The content felt more like trying to get a high school kid to be interested in gardening, rather than an adult trying to get a strong foundation." – Comment from Reddit

"I've been growing my own food for years but I've already learned new things watching these classes. Ron is a great teacher and I've been inspired by these videos to start my own plants (a first)and grow them again this year." – Comment from the Ron Finley MasterClass community

"I absolutely LOVED Ron as the master instructor. He's captivating, entertaining and extremely inspirational. I dont want him to stop cussing bc I love that about him, but I also wish there was a "clean" bleeped version so I could show my younger kids how COOL gardening really is! Watching Ron gets you so excited to get your hands in the soil and grow some sh!t!!" – Comment from the Ron Finley MasterClass community

"I'm amazed by this guy. He uses quite a bit of profanity and is very LA, but everything he teaches seems spot on about gardening."
"I am loving Ron Findlay's class and how he is putting it all together with health, food, the planet, healing our bodies, and our neighborhoods from the inside out."
"I started a little garden on my patio after watching the class, it just blows my mind how many plants that I have. Learning gardening is something that I never believed I would be doing. Now I have potatoes, jalapeños, parsley, onions, avocados, peaches, alfalfa, and cilantro in my garden. I learned a lot. Thank you for the great course."
"I just finished the course and I also want to say THANK YOU! I decided to start 11 veggies & herbs via seeds and my romaine lettuce and beets are already starting to grow! It's only been 4 days! Many thanks, Ron Finley!"
– Comments from the Ron Finley MasterClass community
Final Verdict – Worth It?
In short, Yes! the Ron Finley MasterClass is definitely worth it thanks to clear, fast-paced, and carefully structured content that delivers on its promise to help you start on a successful gardening project.
This course will motivate you to use your creativity to start doing something that will make a difference to the community and your health. Ron's utter conviction that anyone can grow anything will have even those with "black thumbs" believe that they can grow vegetables and healthy food at home.