Herbie Hancock is one of the most prolific jazz musicians and recording artists. His music career includes being a keyboard player, bandleader, songwriter, jazz pianist who's toured with Miles David and even collaborated with artists like Paul Simon, Santana, and Stevie Wonder.
However, Herbie Hancock doesn't just know great jazz, he knows great music. He transcends genre – tracking songs with John Mayer, Paul Simon, Annie Lennox, Norah Jones, Tina Turner, and even Kendrick Lamar.
Herbie Hancock MasterClass takes a different approach than most piano courses online where Herbie Hancock teaches jazz by sharing his approach. The Herbie Hancock MasterClass is perfect for anyone who wants to learn more about jazz, what makes it tick, and how to create music for people to enjoy.
In our Herbie Hancock MasterClass review today, we will breakdown what the course offers, how much it costs, and whether it's worth taking the class.
Quick Summary on Herbie Hancock's Masterclass
The MasterClass teaches:
What is improvisation and how to get started
Understand how to develop the use of chords and rhythm
Writing music with freedom
Herbie's secret to musical fulfilment
Important aspects of being a professional musician
Pros:
Learn jass piano from a musical genius.
In-depth classes with good supplementary workbook.
Useful practical and philosophical advice for all musicians.
Cons:
Course isn't very structures.
Some lessons may be hard to follow.
Course Length: 4 hours and 23 minutes (25 videos in 4 key sections)
Suitable for: Anyone with basic understanding of music and can read music who wants to learn more about jazz.
Overall: Herbie Hancock's MasterClass is a great way for musicians to expand their musical ideas and to 'find their voice'. The content is filled with interesting knowledge that both beginners and experts can learn from.
Who is Herbie Hancock?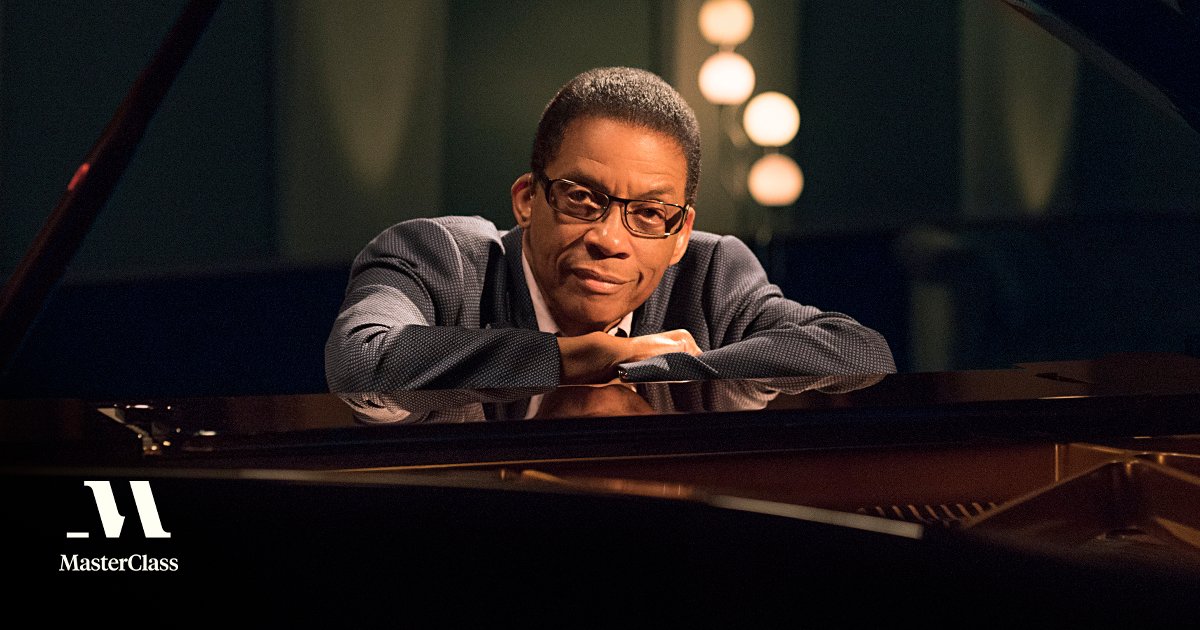 Herbie Hancock is a popular jazz musician and has been on the scene since the 1960s. He was classically trained and considered a child prodigy and even got lucky filing in as Donald Byrd's pianist after graduating college. But his music career skyrocketed when he became part of the Miles Davis Quintet in 1863 before going on to launch a meteoric solo career.
Herbie Hancock is renowned for fusing genres together in the pursuit of new and exciting music. His daring mix of genres has earned him an Oscar and 14 Grammys including one of only two jazz albums ever to be named Album of the Year.
He's also collaborated with an incredibly broad range of artists including Wayne Shorter, Chick Corea, Joni Mitchell, Flying Lotus, Quincy Jones, Stevie Wonder, and Snoop Dogg. Herbie is a well recognized composer and arranger, creating jazz tunes, film soundtracks, disco music, and everything in between.
About MasterClass
MasterClass is an online learning platform with a simple premise, which is to allow everyone the opportunity to learn from the best. All their courses are carefully curated from a pool of instructors across different disciplines. What the Herbie Hancock MasterClass promises is to:
Teach you how to improvise music on your own and with a group.
Show you how to compose jazz music.
Teach you the skills you need to develop your own sound.
MasterClass Courses allows you to learn from some of the biggest names across different industries from the comfort of your own home. The courses involve a series of videos and an accompanying workbook to help you develop and practice the skills you learnt in the video.
What to Consider Before Signing Up for an Online Jazz Course
While the Herbie Hancock MasterClass isn't really a piano course, it does teach basic jazz forms and piano exercises for jazz music. Nonetheless, here are a few things that you need to take into consideration before paying money for an online piano course:
What's your music genre preference? This course focuses on jazz. However, if you're more interested in learning the instrument before specializing in this genre, then you might want to consider taking a general piano course first.
Do you have musical experience? Herbie Hancock's MasterClass is designed for piano players with some basic knowledge of music. But if you're a beginner and has never touched a piano, you might not get the most out of this course.
Are you interested in music writing? One of the main goals of Herbie Hancock's MasterClass is to help you find your own sound and to create your own music. This course also focuses on improvisation with some videos on him sharing Herbie's approach to help you find your own musical voice.
What type of course are you looking for? The Herbie Hancock MasterClass takes a holistic approach to learning. So, if you want to specialize and focus on learning scales, chords, or songs, then this might not be the right option for you.
What's Inside Herbie Hancock's Jazz MasterClass?
The lengthy but detailed course consists of 25 lessons that are between 5 to 15 minute long each that will add up to 4 hours and 23 minutes. The video lessons are also accompanied by an enormous 164-page downloadable workbook that's packed full of transcriptions of Herbie's playing, lesson summaries, and assignments for you to practice what you've learned.
While 164 pages might seem intimidatingly long, if you go through it carefully alongside the video lessons you'll begin to see how it helps you get grips with the content more thoroughly.
This course is understandably difficult to structure thanks to nature of 'teaching jazz' that can be taught in many different ways. Nonetheless, Herbie Hancock has split his course into 4 main sections:
1. Herbie's Advice
2. Fundamentals of Jazz
3. Practical Tips to Help You Develop
4. Herbie in Performance
Overall, Herbie Hancock's MasterClass course is aimed at helping you find your own voice. Here's a breakdown of what you can expect from each of the 25 video lessons:
1. Introduction – Before the course starts, Herbie talked a little about himself and gives you a chance to hear him play the piano a little.
2. A Human Approach to Music – Herbie talks about his approach to music in this video and he believes that music is much more than just the notes you play.
3. Improvisation – While many musicians may feel a little apprehensive about improvisation, Herbie slowly teaches you to embrace improvisation through his philosophy of listening then reacting.
4. Learning by Listening – There are several ways to improve your music playing and one of them is by listening to your favorite songs. Herbie explains how you can get the most out of listening to your songs in this lesson.
5. The Two Basic Jazz Forms – In this section, Herbie introduces two simple harmonic patterns behind many jazz hits. He also touches on some of his philosophies for improvisation.
6. Listen and Learn: "Oleo" – Herbie teaches how you can develop your skills by practicing along with a Sonny Rollins classic.
7. Piano Basics – This video is a great lesson for beginners as Herbie goes through some of the fundamentals of piano.
8. Piano Exercises – While the Herbie Hancock Teaches Jazz course does not include a lot of exercises, this is one of the few lessons where you can practice to help improve your speed and dexterity.
9. Improvising Alone – You have plenty of opportunities for creativity and are not bounded by any rules when you improvise on the piano while playing alone. In this lesson, Herbie shows you how he improvises while solo piano playing.
10. Expanded Improv Techniques – The music course then moves into helping you think expansively when you improvise.
11. Jam Session: Improvising Together – This is quite a fun lesson as you watch Herbie play along with other musicians as they improvise. This video shows you how groups of musicians communicate with each other while they improvise.
12. Composing – This lesson is great for songwriters as Herbie explains how he begins constructing songs.
13. Recomposing, Rearranging, Reinventing – Once you've written or recorded a song, there are still plenty of opportunities for you to creatively shape and change it.
14. Jam Session: Two Approaches to "Watermelon Man" – Herbie illustrates how what he taught in lesson 13 can be applied.
15. Working as a Composer – In this video lesson, Herbie talks about his experience writing for some of the greatest musicians.
16. Chord Voicings – This lesson introduces interesting chord voicings and how it can can spark creativity and add life to your music.
17. Case Study: Reharmonizing "Round Midnight" – Here, Herbie uses "Round Midnight" to explain how reharmonizing works and how important it is to have this skill in your creative toolbox.
18. Ravel's Creative Harmonies – Herbie talks about how Maurice Ravel is one of his favorite composers as well as to introduce several Ravel harmonies that you can include into your own music.
19. Expanding Your Harmonic Horizons – Herbie Hancock's jazz harmonies are the result of years of experimentation and in this lesson, he teaches you how you can begin developing your own approach to harmony.
20. Listen and Learn: "Maiden Voyage" – In this listen and learn video, you get to hear Herbie play one of his most famous solos.
21. Rhythmic Musicianship – This video is aimed at helping you expand your rhythmic confidence and repertoire.
22. Jam Session: Rhythm in "Actual Proof" – This lesson introduces complex rhythms as you watch Herbie and his friends play "Actual Proof" from Headhunters.
23. A Musical Life – Herbie looks back on his musical journey and talks about his experiences that will inspire you to begin your own journey.
24. Listen and Learn: "Watermelon Man" – Herbie revisits his song "Watermelon Man" to demonstrate how even simple structures can create beautiful pieces.
25. Closing – The final video is a wrap up of the entire course.
Section 1: Herbie's Advice
There are a number of interviews with Herbie spread throughout the Herbie Hancock MasterClass where he talks about his personal philosophies and professional experiences. This is where the course shines as no other course has such unique material to offer.
However, Herbie does occasionally rambles and it might feel a bit unstructured, but hearing him rambling is an experience itself and if you take the time to process what he's saying, you'll understand how it's worth listening to what he has to say.
A Human Approach to Music
This introductory lesson teaches you:
The meaning of jazz
Why Hancocks believes that jazz is an important pursuit in this day and age
The unbridles passion Herbie Hancock has for jazz
This is an important introductory video as Herbie's passion for jazz will motivate you for whatever's coming in the rest of the course. The lesson also levels the playing field and helps you feel confident in whatever musical knowledge or experience you have.
Composing
A big part of Herbie's musical career involves composing as proven by some of his most popular tunes that's recognized in the jazz world. In this lesson, Herbie encourages everyone to pick up their instrument to just start writing music and developing ideas.
Working as a Composer
Herbie talks about his experiences working as a composer for other musicians in this lesson including:
Real-world advice
Key moments in his career
How to be a successful composer
Practical tips for navigating copyright and owning your music
A Musical Life
This lesson talks about how every musician is unique with their own experiences and tastes. He offers unique stories and encouragement to give you the confidence of finding your own unique style. This lesson talks about:
Why musical hierarchies are dangerous
How to be inclusive and continually engaging with the world
How to discover your own voice and why it's so important to express yourself musically
Section 2: Fundamentals of Jazz
This section is where Herbie covers some jazz fundamentals as he discusses and shows how you can explore these yourself on the piano.
Improvisation
Herbie talks about improvisation early on in the course and it sets a good foundation for the rest of the course. Herbie goes on to say that it's okay to play the wrong notes and even encourages you to explore what sounds good.
The Two Basic Jazz Forms
This jam-packed lesson includes:
Recommendations on listening.
Sheet music for two of the most common jazz structures.
Herbie playing through examples.
This is where the supplementary workbook proves to be particularly helpful as it gives you a chance to improvise with some chords. Simply by limiting the chords to the structure means you are forced to work within some boundaries and to think about the notes you were playing instead of going for random ones.
Improvising Alone
This lesson adds an interesting twist as Herbie takes you through the endless possibilities of improvising on your own. The main premise of the lesson is that you can do whatever you want with no boundaries. This gives you a good opportunity to explore your voice and new sounds.
Recomposing, Rearranging, Reinventing
This lesson is slightly similar to the Interview style as seen in the videos under the first Section. The video includes Herbie talking about:
His unique arrangements of tunes.
Why reinventing old ideas and music can be invaluable.
How music tells a story.
Rhythmic Musicianship
Although the lesson doesn't offer many practical tips on how to use rhythm, it does teach you how to:
Play 'in the pocket'
Be more comfortable playing fast
Embrace complex rhythms
Section 3: Practical Tips to Find Your Voice
Herbie also includes some practical tutorials in Herbie's MasterClass to help you improve your technical abilities. It will also help you develop your musical awareness and piano skills to ultimately give you the freedom to express your own music.
Learn by Listening
Although this advice isn't unique, it's still a vital lesson. The advice is accompanied by Herbie's stories of how he developed his awareness of jazz as well as:
How to listen to music
The fundamental step of identifying what's unique about jazz
How to build your own musical vocabulary and confidence by listening
Piano Basics and Exercises
While these two videos are aimed at beginners, it still offers a lot of value for experts as Herbie shows how he started off on the piano. Improving your skill and developing your physical awareness of how to play the piano will open up more musical opportunities. The lesson also include some great tips to help with your technique.
Advanced Ideas
The course isn't only for beginners as Herbie includes some advanced lessons that are more suited for those who have a confident understanding of how harmony and chord structures work. Regardless of your own knowledge level, there's still value for any abilities provided that you put in the time to research on your own outside of lessons.
Expanded Improv Techniques
This lesson offers an absolute goldmine of tips such as how you can expand small ideas into a musical story. The lesson also shows a breakdown of practical "how-to" process that Herbie uses when composing or improvising.
Jazz Harmony
Herbie also covers more complex harmonic ideas in his course. However, the terminology used in these lessons is a little more advanced which may require an existing knowledge of the processes that Herbie talks about, such as reharmonization and bitonality.
While the content is not wholly unique, listening to the way Herbie demonstrates it and how he explains his ideas at the piano is really helpful and engaging.
Chord Voicings
In this video lesson, Herbie explains the different versions of the ii-V-I chord sequence that's often used throughout jazz chord progressions. He also shows how you can create new music by limiting the chords used.
Case Study: Reharmonizing "Round Midnight"
Herbie Hancock demonstrates his ideas on the piano by discussing the innovative musical language of Ravel and how you can take inspiration from it and include it into your own music.
Expanding Your Harmonic Horizons
This is yet another incredibly helpful lesson where Herbie teaches you the harmonic tool box he uses to create his music and how you can practice reharmonization. The key takeaway of these harmony lessons it that you'll need to explore the reharmonization ideas yourself to truly find your own musical voice.
Section 4: Herbie in Performance
Hermie's own selection of performances with transcriptions in the workbook is provided throughout the course. These exclusive solo performances usually come right after certain key lessons to demonstrate how to apply the concepts and ideas taught. This not only breaks up content-heavy course into smaller chunks, but it also helps to consolidate what you just learned and processed.
The Listen and Learn performances feature Herbie playing tunes alone and improvising. The videos demonstrate the techniques of harmony, rhythm, and melodic variations of different songs. There are also cool live jam sessions where Herbie plays alongside other musicians that provides a different insight into how you can play and improvise in a group setting.
What I Learned from Herbie Hancock's MasterClass
Here are the top five very meaningful takeaways I learned from Herbie Hancock MasterClass
1. Your music needs to tell a story
One of the most important things I learned from Herbie's MasterClass is that jazz is more than just about complex, pretentious notes. The music you create needs to tell a story – and that's the key to developing your own unique sound.
2. Dare to take risks
A huge part about creating music involves improvisation and Hancock encourages you to play some wrong notes to experiment new sounds. By daring to experiment only will you be able to learn more about yourself as a player, and the styles and sounds you like. In fact, you might even end up creating a masterpiece through improvisation and experimenting.
3. Don't be afraid to copy others
According to Herbie Hancock, one of the best ways to learn the basics of song writing is to breakdown what others have created. Listen to the notes, harmonies, tone phrasing, dynamics, and the story the artist is using. Not only will this train your abilities with an instrument, but it also improves your listening skills.
4. Master rhythm and blues
Part of Herbie's MasterClass, he has dedicated an entire chapter to differentiating between the two types of jazz: rhythm and blues. If you want to establish a solid foundation in your piano training, you need to be able to comfortably shift between rhythm changes and the blues in all 12 keys.
5. It's up to you to find your own musical voice
Only you can develop your own unique sound. All that can be taught are the basics and fundamentals you need. What you plan to do with those will be totally up to you.
Memorable Quotes from the Herbie Hancock
"You're born with ears. You're born with a heart. Just use them." – Herbie Hancock/Lesson 3: Improvisation

"Honesty goes a long way when it comes to composing, especially today. People want to hear real things about real people and real experiences in life." – Herbie Hancock/Lesson 12: Composing

"No matter what the landscape, you can create new avenues of exploration and joy for yourself and creativity, that make the experience exciting for you and exciting for the people that are listening to you." – Herbie Hancock/Lesson 12: Expanded Improv Techniques
The Good & The Bad of This Jazz Course
Good Parts
Learning from a legend!
Some are great at their craft but may not be good teachers. Fortunately, Herbie is great at both! He is easy-going and friendly, which makes the classes a lot more fun. The course content also varies from basic to complex to suit a wide range of people at different levels.
Despite being packed with complex concepts, Herbie makes the course more approachable such that it doesn't deter or discourage beginners.
Although Herbie is a legend and a master at what he does, the way he talks about his experiences and chats with his low-key famous friends really makes the whole course seem much more relatable and entertaining. He is a great storyteller and his friendly personality is really encouraging.
Good Lesson Organization and Structure
I really appreciated how the lessons in the course were organized and structured. The simple explanations make it easier for beginners to understand what's being taught.
The course starts from simple exercises and drills to more complex improvisation and composition. Herbie also encourages you to play along with him throughout the course to get a better sense of how to adapt both pieces of music and your playing.
Each video lesson is also relatively short at about 5 to 16 minutes each, so you don't feel overwhelmed in one video. Nonetheless, the entire course is not meant for you to complete in a single sitting. Simply learning and listening from a jazz legend like Herbie is an experience you need to savor.
The course also progresses gradually, so you don't feel overwhelmed with too much information in every video. Herbie also adds "Listen and Learn" and "Jam Sessions" in between lessons to give you a small break while also giving you a chance to see how to apply the techniques you just learned.
Just Be Yourself
One thing that Herbie frequently repeats throughout the course is to find your own sound and just be yourself. This little mantra is very helpful and gives you the confidence to explore jazz piano for yourself at your own pace, which leads us to our next point.
Explore at Your Own Pace
The course is well structured, and it's done so much that it gives you enough time after each episode to explore your own ideas. Though the entire course is 4 hours, you can take your time and complete it over a number of weeks to practice the things taught by Herbie in his lesson. The course is also laden with exercises where you can practice to improve your skills.
Teaches to Learn with Both Ears and Eyes
Herbie doesn't just talk about his ideas; he demonstrates them so that you can see how they're used or applied. Some might find the videos a bit difficult to follow but fortunately, there's a very helpful workbook that notates everything Herbie plays. There's even space provided for you to write down your musical thoughts on music staves throughout the book.
The short video lessons and accompanying workbook make the entire course easy to follow by both listening and reading the music. However, this applies only if you can read music, otherwise, the course is slightly difficult to engage with.
Herbie's Stories
Herbie takes time throughout the course to talk about his relevant experiences and it feels like getting an insider's secret knowledge from the masters of jazz. Herbie even turned the anecdote of Miles Davis not liking his "butter notes" into a really useful skill that you can use to expand your playing.
Although the stories are interesting and engaging, Herbie does talk about musical concepts like improvisation and chord progressions before teaching what they are. This gives an insight into his brilliant yet scattered mind but may not necessarily be the most intuitive way to learn.
Transferable and Practical Advice
In addition to the technical advice that he offers such as selecting specific portions of a track and playing through them in different tempos or practicing with a metronome to keep your playing even rhythmic, he also includes creative advice that can be applied to other creative professions or hobbies.
Herbie constantly encourages you to learn from experience, fellow artists and collaborators, and life itself.
Suitable for Beginners and Experts
As mentioned before, Herbie Hancock's MasterClass offers value for all musicians at different levels. It doesn't matter whether you're just only starting to learn piano or if you've been a professional jazz musician for years, the ideas and concepts that Herbie teaches are useful for everyone. This broad course teaches how you should embrace your mistakes to improvising every day.
However, those who expect a deeply technical lesson about jazz might be disappointed as the course only gives a few glimpses of Herbie's theoretical knowledge. Some beginners may also need to do their own research outside of the course to understand certain terminologies used.
Parts That Could Be Improved
This is a great course on jazz, but it's certainly not without its flaws.
More Demonstrations of Concepts
The course begins with Herbie talking about ideas and concepts and this is great. However, I find that he doesn't demonstrate these enough, and I often wondered how on earth he did it. While the Workbook transcriptiosn are good, they can only take you so far.
You're still going to need to pick them apart and analyze very complex notes to understand why or how he's doing them. Jazz musicians may be able to get a headstart with this but those who are not familiar with what rhythm changes mean might find the lessons a little challenging.
More Explanations
The course is filled with a lot of technical stuff and music theory but it could do with more explanations, which could be especially helpful for beginners.
Many of the terminologies used throughout the course might be familiar to experienced jazz pianists but beginners who have are just about to start their musical journeys may find it a cnfusing/ It's difficult to learn how to expand your use of reharmonisations of the II-V-I progression when you don't even know what they mean.
Those who aren't familiar with piano playing or sheet music may find the Chord Voicings lesson challenging. Though it was interesting to see hwo different chord voices change the sound of the same note, Herbie doesn't really explain why or how he chose the voicing he did. It would've been better if Herbie included some simple explanations of what he was doing during such lessons.
Herbie Tends to Ramble
It's clear that the jazz legend has a passion for what he's teaching and this can be seen from his talks. However, Herbie does have a tendency to ramble on a bit, in both playing and talking. This is particularly true in some of the jam sessions – which was cool! But it would've been nice if he also demonstrated more theory and how the bass and drums worked in jazz playing.
Who is this MasterClass for?
Herbie Hancock Teaches Jazz MasterClass is a great course for anybody interested in learning more about what jazz is, what it means, how to play jazz, how to get started, and how to become create jazz music with your own playing style.
Although the course offers a lot of value for people at different points of their musical journeys, it would be best to have some basic understanding of music before taking on this course. If you aren't familiar with chords, melody, rhythm, and structure, you may find it difficult to catch up,
Still, you don't need to be an expert in playing jazz just to learn from this course. Herbie's class is suited to anybody with a basic understanding of music who is:
Excited about jazz and wants to learn more.
Looking to expand their musical horizons.
Keen to listen about Herbie's long career and experiences.
Looking to start their own songwriting.
Jazz musicians looking for a new approach and how to create their own sound.
A hobbyist seeking a new online leson.
A beginner hoping to learn the ropes of jazz.
How Much is the Course and is it Worth It?
Just like every other MasterClass course, each member is presented with two options. You can either buy the course on its own for $90 or you can opt to pay for a year of all-access pass subscription to every course on MasterClass for $180 a year.
Option 1 – $90 for a Standalone Herbie Hancock's MasterClass
The course itself is 4.5 hours and if you break it down to an hourly rate, Herbie Hancock's MasterClass ends up costing a rate of $20 an hour. That's a very competitive price compared to a local piano teacher, let alone one of the greatest jazz musicians alive.
The course offers an unbeatable value, especially since you get to learn at the comfort of your own home and at your own pace. You can choose to take as much time to pause and practice as you need.
To buy this course individually, you'll need to buy it as a gift, and gift the course to yourself. Furthermore, you get lifetime access to Herbie's MasterClass, meaning you get to dip in and out or revisit it anytime you like.
Option 2 – $180 a year for a MasterClass Subscription for the Whole Year
The second option to getting access to Herbie's MasterClass is by subscribing for an annual all-acess MasterClass pass for $180. This works out to be about $15 per month for an all inclusive access pass to lessons by the best experts in the world.
This subscription will give you access to an excellent cooking course by Gordon Ramsay, jaw dropping game of poker by Phil Ivey, jazz piano lessons from Herbie, and how to be a comedian by David Sedaris. As long as you're able to find at least 4-6 courses you like from the website, you're effectively only paying $30-45 per course.
MasterClass is an absolute goldmine of information with courses taught by world-class experts at a very reduced price. Nonetheless, if you're worried about the commitment, the website includes a refund policy just in case you decided that the course is not suitable for you.
Other Jazz Course Alternatives
If you want to learn music, MasterClass itself has several other instructors that teach music such as Yo-Yo Ma, Hans Zimmer, Timbaland, deadmau5, Tom Morello, Christina Aguilera, Carlos Santana, Usher, Itzhak Perlman, ringo Starr, Sheila E, Jake Shimabukuro, and St. Vincent.
The annual all-access pass mentioned earlier under Option 2 will give you access to all these classes at ust $180.
There are also many different ways you can use to learn about jazz. Jazz itself is a complex genre with a complicated past, present, and future. Herbie's approach is just one of the many ways to learn about jazz.
One of the more obvious plays where you can learn jazz for free is YouTube. There are tons of 'Beginner Jazz PIano' courses available of varying quality. Since they're free, they're highly recommended before you commit to something more costly and more complex.
Other than that, udemy also offers courses on jazz such as 'Learn Jazz Piano Today' by Willie Myette and 'Jazz Piano Chords – Rich Sounding Jazz Chords for PIano' by Martin Cohen. These courses teaches fundamentals and basics of jazz with good examples of how the chords work, what scales to play when improvising and how to practise.
Udemy courses cost from $15 to $50 for the whole course and are great options for beginners. However, experienced musicians might prefer the MasterClass since the Udemy course might lack the philosophical insight Herbie offers.
Skillshare is also another great learning platform to consider. Skillshare is free for 14 days after creating an account whereas Skillshare Premium is free for seven days after creating an account. Once the trial is over, Skillshare Premium costs about $18 monthly for an annual membership.
The platform includes courses such as The Complete Jazz Theory Course – Jazz Chords/Scales and more by Martin Cohen who is a composer, musician, and teacher. His Skillshare course is over 3 hours with videos ranging from two to ten minutes.
An alternative Skillshare course is Arthur Bird who teaches The Ultimate Beginners Course – A simple step-by-step guide to jazz piano. This course is over seven hours long and is split into 96 lessons.
What Others Have Said About the Course?
No review is complete without considering what others have said about the course. Once again, you need to keep in mind that music is very subjective since everyone has their own tastes and preferences, so it's worth checking what others are saying about the course.
A quick Google search has resulted in a few interesting points.
Someone said that the course felt like it was designed with both beginners and experts in mind since it's ehavier on the meaning and philosophy of jazz.
"I took it. Altho it does lend some insight into the craft, theory and technique of jazz, it ultimately tries to cater for an audience on both ends of the spectrum – that is beginner to advanced – by talking more so about the feel and intention of jazz.

I thoroughly enjoyed it, it just depends on what you're willing to get out of the course I suppose." – Comment from Reddit
Another person felt like the course was lacking on some practical information.
"These classes don't usually have a whole lot of concrete practical information, they are more just super in-depth interviews" – Comment from Reddit
As discussed in the section above, the course definitely has some drawbacks but there are also many favorable reviews with subscribers saying that the course has changed their playing.
"I enjoyed every minute of the MasterClass. So much so that I already got it as a gift to two dear friends of mine – each one for 90$. I think that no matter where you are in your musical journeys, you will find some very meaningful takeaways to take to your own playing style.

It's truly a treasure – and it helped me discover the beautiful and rich world of jazz. I hope it will be so meaningful to you – in one way or another."
– Cooper from Guitar Song Masters
All in all, the general opinion about the course is that it is more about learning from Herbie Hancock himself, and not just about learning jazz. This offers a unique opportunity for you to get a detailed insight into his life and music.
Is the MasterClass Content Unique?
With so many online courses available now, the content in this MasterClass may not be a 100% unique. There are countless jazz piano teachers out there that teach the fundamentals of jazz and how to start improvising.
And this is where Herbie Hancock's class is like many others with lessons on interesting chord voicings, reharmonisation, complex rhythms,basic jazz structures, and composing your own music.
But what makes this course stand out from the rest is the philosophical and historical content provided. Herbie shares about his own experiences and well tested views throughout the course. There is simply no other course that details the playing with Miles Davis or writing of chart topping hit like 'Watermelon Man', which is what makes this course so unique.
Yes, there are many interviews of Herbie on YouTube and some of the material in the course seems repeated here. But the main attraction is his personal presentation of structured and detailed lessons in one place.
Is it Worth The Money?
The short answer is yes! However, you need to always keep in mind that everyone has different tastes and preferences, especially when it comes to something like music. Learning music online can b challenging, especially if you're starting from scratch.
This MasterClass is not for someone who's just starting with the basics of piano. But if you're an intermediate or advanced piano player, then this is definitely the course for you.
Nonetheless, there's still value for those who are willing to spend more time and effort to research outside of lessons to learn more about basic jazz theory. Furthermore, any aspiring musician who's exploring their musical potential will find great value in Herbie's principles.
Some may find the course a bit pricey but considering the hours of listening recommendations, a 165-page workbook, and several weeks worth of musical development, this course could just be a game-changing moment in your music career.
Some of the major pros and cons of this course are:
Pros:
Course covers piano and jazz fundamentals.
Helps to develop practical skills through real exercises.
Get pearls if wisdom from one of the greatest musicians on Earth.
Cons
Relatively long course that you can't just tune in and out of.
Can be difficult to follow along.
A lot of talking and not suitable of you if you're jus tin it for piano lessons.