Learning graphic design involves studying design theory, typography, and knowing how to use the software like the back of your hand. While these are all valid points, they can turn what's a fun activity into something so tedious filled with tons of technical aspects that you forget to simply have fun with it and let your creativity flow.
When taking on any design project, whether for school or a client, you need to truly understand the requirements while also staying true to your own aesthetic and design sensibilities. One of the most popular graphic designers today is David Carson. His experience and knowledge in graphic design are so well-known that he's even created a MasterClass to teach graphic design.
Our David Carson MasterClass Review today will be talking about the pros and cons of taking this graphic design course and whether it's worth your money and whether it can help you make a mark in your design projects.
David Carson MasterClass Review Quick Summary
What you will learn:
David Carson's design journey and how he became an art director.
How to incorporate your own personality and elements into your work.
How to reinforce a message through design.
Different approaches to using technology.
Carson's "images in tex" theory.
How and what to do to keep a logo interesting.
How to use typography and color in the design.
How to make your collage stand out.
Why you should embrace "accidents".
How to find, approach, and conduct yourself professionally with clients.
Pros
Learn from a well-known graphic designer.
Offers strong examples throughout the course.
Cons
Design is a highly subjective matter.
Less tech-focused.
Course Duration: 2 hours 7 minutes (13 video lessons)
What You Need: You won't need any special equipment but it's worth having some sketchpad and art materials to engage with the exercises in the course.
Suitable for: Aspiring graphic designers who are looking for new ways and inspiration on how to create unique work.
Overall: David Carson's MasterClass is a very engaging and informal course with a lot of emphasis on why you should bend and break the rules of graphic design. David Carson's passion for graphic design is obviously demonstrated through his course as he offers great tips and tricks to make designing easier.
Who is David Carson?
David Carson is a prominent contemporary graphic designer and art director known for his unconventional style and experimental typography visuals.
Despite being a popular graphic designer, he did not take a single graphic design course until the age of 27, when he spotted a listing for a two-week class at the University of Arizona.
He graduated from Fullerton College and San Diego State University with a sociology degree that gave him a deep understanding of how individuals communicate with society and this has sharpened his research and critical evaluation skill.
Since then, David Carson's design career skyrocketed and he became the art director of the Ray Gun Magazine.
He was given the title of the godfather of grunge typography that's perpetually used in his magazine issues. His work is characterized by chaotic typography and pattern that carriers a larger meaning than what's seen initially.
In 1984, he was named art director of Transworld Skateboarding before he left in 1989 to join Musician magazine. He then later relocated to New York to work on SELF magazine before heading back west to join the upstart magazine Beach Culture.
The title won numerous awards including Best Overall Design and Cover of the Year from the Society of Publication Designers.
This then led to a stint at Surfer magazine where David spearheaded an imaginative redesign. He was then hired to design a fledgling alternative music magazine called Ray Gun in 1992.
David later started his own design studio in 1995 and his clients include Pepsi, Nike, and Microsoft. His career also includes directing commercials for Budweiser, American Airlines, and Xerox.
About MasterClass
MasterClass is an online streaming platform founded in 2015 by Yanka Industries Inc. The establishment has a simple premise, which is to allow everyone the opportunity to learn from the best. All their courses are carefully curated from a pool of instructors across different disciplines.
In addition to its celebrity branding, MasterClass is known for its impressive high production values which contributed to its recent popularity. What Carson's MasterClass promises is to:
Teach you how to include unique design elements in your project.
Teach you how to take on an intuitive approach to your work.
Why you should embrace and be open to accidents.
Share with you David Carson's creative process and insights into his career.
MasterClass Courses allows you to learn from some of the biggest names across different industries from the comfort of your own home. The courses involve a series of videos and an accompanying workbook to help you develop and practice the skills you learned in the video.
A Closer Look Into David Carson's Graphic Design MasterClass
David Carson's MasterClass has a total run time of 2 hours and 7 minutes that's split into 13 video lessons. The graphic design course is supplemented with a 44-page workbook filled with assignments, case studies, and more.
Lesson Plan Breakdown
Meet your instructor: David Carson
An intuitive approach to design
Send a message with typography
Using photography in design
Assignment 1: Put yourself into your work
Developing a logo
Life as a working designer
Assignment 2: Tap into the power of color
Collage art for designers
Working with potential clients
Designing impactful magazines
Assignment 3: Designing your future
Make it happen
Lessons 1 & 2: Meet Your Instructor and An Intuitive Approach to Design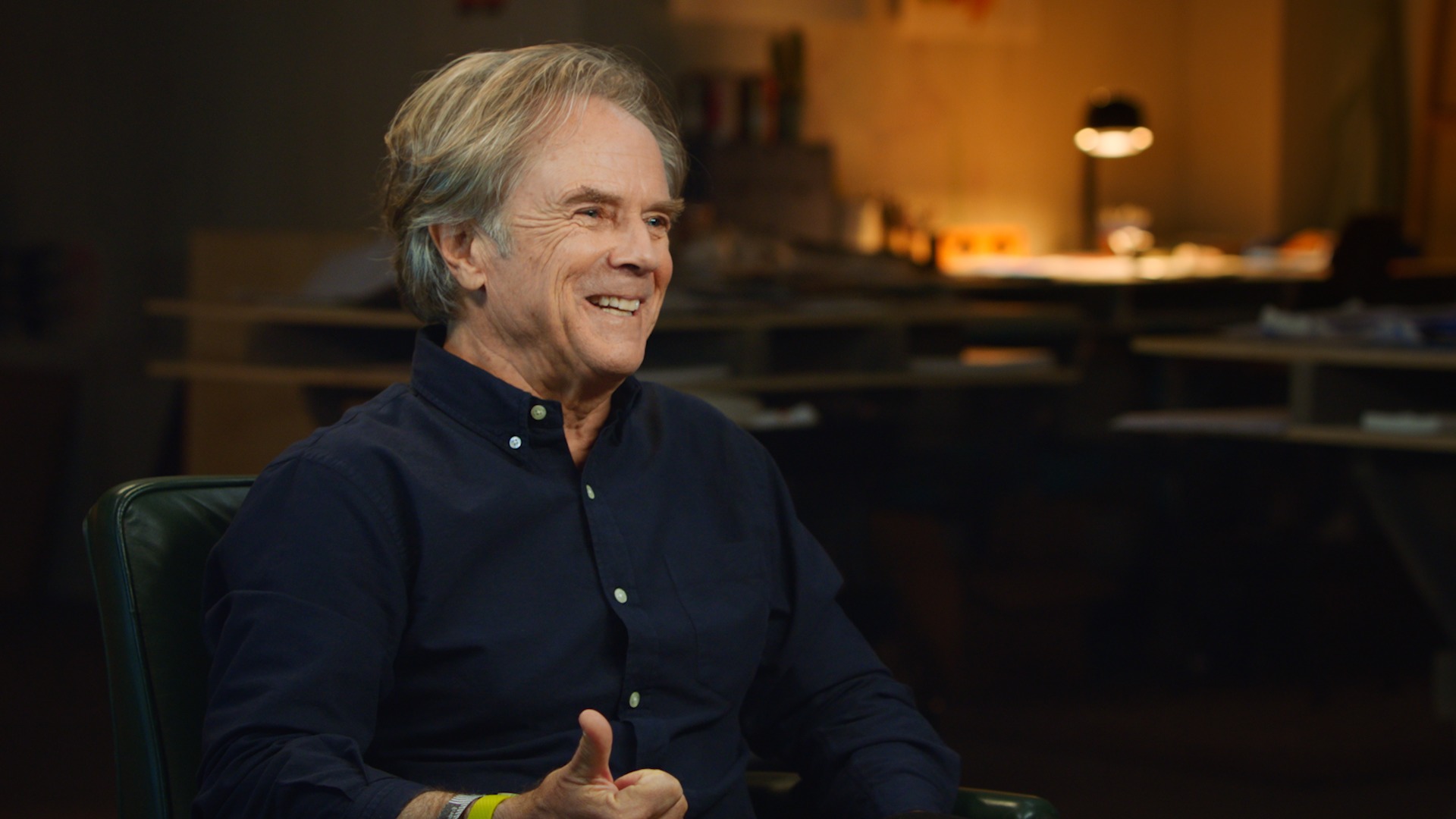 In the first lesson, Carson talks about his experience and how his journey into graphic design began. He also uses this time to bring up his objectives for this MasterClass course. In these two lessons, you learn:
David Carson's creative techniques.
How to train your eyes to find inspiration from your environment.
Different methods to get inspiration.
How and why Carson's work looks the way it does.
Why you shouldn't be neutral.
The beginning of the course presents you with several examples of David Carson's work throughout the years as well as several designs that he likes or dislikes to give you a better understanding of David Caron's perspective when it comes to design and why he makes certain creative decisions.
David also offers some actionable tips on what you can do so that your work can attract more attention. He ends the lesson with encouragement to rely on your own intuition, push yourself to take risks, and develop a mentality that keeps you attuned to unpredictable moments or "accidents" that could make your work better.
Lessons 3 & 4: Send a Message with Typography and Using Photography in Design
In this lesson, David teaches you how to use innovative typography to reinforce the message you want to send with your work. He talks about why he uses certain font choice, spacing, color, and other layout decisions to deepen the overall layout impression.
He verbalizes his thought process on what you can tell through a piece of design to give you insight into how Carson uses his creative process to come up with highly effective logos.
David is a good graphic designer known for his typography and bold photography treatments in his designs. He shows you the "personalities" of different fonts and how you can use them effectively.
He also gives you a few concrete pieces of advice with his Armani project as a case study to show you how you can combine fonts. The lesson teaches you:
Caron's "images in-text" theory.
How to avoid creating forgettable work.
Ways to create "atmosphere" with photos.
Why you should not make the obvious choice.
How to use photos to reinforce meaning.
Lessons 5 & 6: Put Yourself to Work: Assignment 1 and Developing a Logo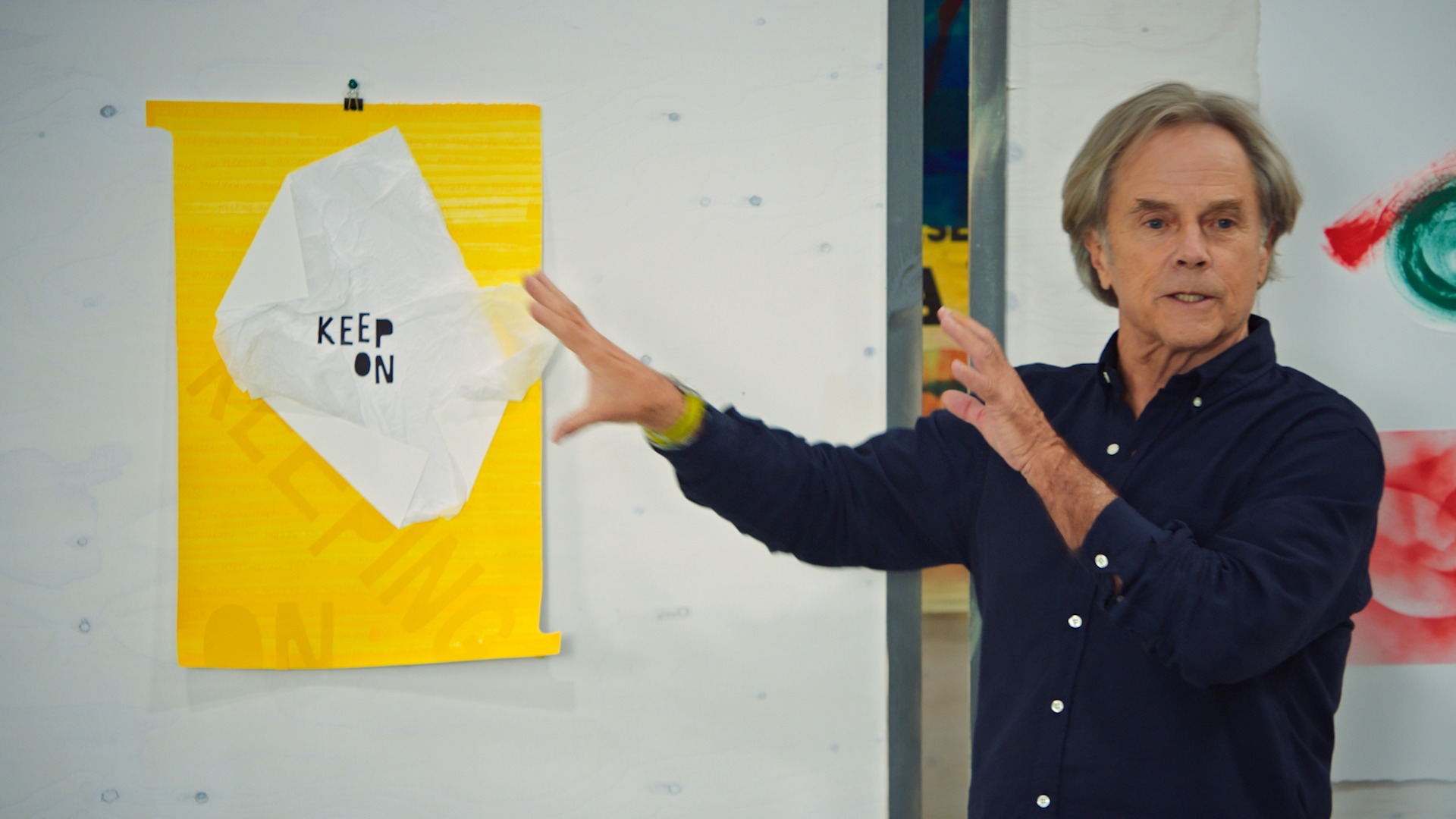 The lesson also gives you an opportunity to "join" Carson and his students in formal training where they share and evaluate each other's work. The first assignment his students had to do was to use only the letters of their first name in black and white to communicate their personality. Through these lessons, he teaches you:
Why you shouldn't be too literal in your work.
What a logo needs to say and how to keep it interesting.
The difficulties and rewards of simplicity.
Why you should avoid grids.
How to "humanize" people/businesses in a logo design.
Next, David talks about what makes a logo design successful and he even demonstrates his iterative process on different logo directions from his home studio. However, design is very subjective to individual preferences and tastes, and this is something that David acknowledges. He even goes on to say that being a graphic designer is about making the call on whether a design is working or not.
Lessons 7 & 8: Life as a Working Designer & The Power of Color: Assignment 2
In lesson 7 of David Carson's MasterClass, he offers big-picture advice for designers, ranging from where to base yourself to the merits of working for free. David talks about what you can expect from a life in graphic design and a few tips to keep yourself motivated throughout. He talks in detail about how and where to find different types of work.
This session also lets you "join" the second group session where David reviews the assignment of introducing color into their work and creating a design that reflects how their week is going. In this section, you will learn:
Where you can find different kinds of work.
How to avoid distractions.
How to promote yourself.
The merits of color and texture.
How to express yourself while working with a set of limitations.
Lessons 9 & 10: Collage Art for Designers and Working with Clients
In this collage lesson, David Carson gives a top-down view of him creating several collage pieces as he talks you through his decisions in real time.
In this lesson, you also get to see Carso trying different things before finding out that it doesn't work and he had to change course. This creative process was a very good opportunity to help you see how David Carson's mind works.
The next lesson of David Carson's MasterClass has him offering helpful tidbits on how you can conduct yourself professionally to attract clients.
He even gives you pointers as to where you can go to find crucial contacts. He shares his process, starting with reading the brief through collaborating with clients to achieve the most compelling results possible.
David Carson shares how he sees his project as a balance between his artistic style and the client's brief. He also takes you through some of his work as case studies to demonstrate how you can push yourself even when you're working within constraints.
Lessons 11 – 13 – Designing Impactful Magazines, Designing Your Future: Assignment 3 and Make It Happen
In the final section of David Carson's MasterClass, He talks about how you can approach magazine design in ways that attract and keep readers interested.
He breaks down the editorial work he pioneered at different magazines that played a role in establishing him as an unpredictable and polarising figure in the field of graphic design.
David Carson talks you through his approach to magazine design. Once again, he admits that design is subjective and he goes on to give you some great pointers on how you can make your work stand out. In these lessons, you'll learn:
How to get the audience interested.
About his approach to "readability".
How you can pull the reader in through page design.
The different ways to achieve your goals.
What makes a good magazine cover.
In this section, David reviews the last assignment, which allowed the students to break free of any constraints to show what kind of future they imagine for themselves. Once again, the students all examine and critique each other's work. This is a useful moment where you get to see the work of others at different stages of their design career.
In the closing lesson, David Carson shares a simple and powerful exercise that will inspire you to think about your future, what you want to accomplish, and what you're doing to make that happen.
What I Learned from David Carson's Graphic Design MasterClass
Some rules are made to be broken – Although David is one of the most popular graphic designers in the world, he didn't have formal training in graphic design when he started.
In fact, he was a sociology teacher but he pivoted his knowledge of how we communicate into this new field that has led him to develop his own signature style of overlapping images and disorderly typography that broke all the rules and yet attention grabbing.
It's important to be intuitive, personal, and communicative in design – Your designs should not just only communicate the message through words but to get through to their heart. The overall visual communication impact should be emotional enough to move them and make sure to stay away from anything too common and forgettable.
Legibility is not communication – The software created is programmed with rules but as a designer, you need to break the rules. The spacing, the placement of titles and subtitles, where to capitalize are things that a designer should decide, not the software. Each font has its own personality and you need to make use of them to reinforce the message you're sending
Don't rely on the grid system and use a humanist approach – You need to decide who is the audience and what you're trying to say to them. A good tip is to not put things where they seem like they should go and play with them from there.
Draw inspiration from the world – Inspiration can come from anywhere. You should train your creative eye to start taking notice of things you see that can create emotional resonance and ask how might this connect to something else.
Beauty of subversion through collage – Creating a collage is often viewed as a kids' activity but this can be a timelessly relevant art form of cutting and reassembling different works to create a new concept.
Push your strengths – Being a good graphic designer is about having self-awareness. Some succeed for a specific strength but they tend to lose their way over time.
Authenticity sells – You need to tap into your own unique experiences and perspective to create designs that stand out from the rest. Don't stick to standard tricks and emulate what's popular. Try something new and create something extraordinary.
Good Parts of this MasterClass
Learn from a well known graphic designer and art director
David Carson has decades of graphic design experience with dozens of famous brands on his client list, making him one of the best graphic design instructors around. In this course, you get the chance to learn from the legend himself as he talks you through his personal philosophies.
Strong case studies and examples used throughout
A very good plus about this MasterClass course was how David Carson used a lot of examples and case studies to back up his teachings. In fact, he even goes to great lengths to show you the work he's created throughout his career and takes you through some of the decisions he's made in order to achieve the end result.
He even shows several early drafts and how they grew to become the finished product. On top of that, he also demonstrates how you can make use of "accidents" that could potentially help you shape some memorable work.
David Carson is a very passionate instructor
It is obvious that David Carson has a great passion for graphic design. Considering how he even has a background in teaching and sociology, it's no surprise to find out that he's a very engaging instructor. He comes across as a very personable and relatable instructor that gives easily digestible information.
What Could Be Better?
Materials were high subjective
Design is a subjective matter, which means the course content in creative courses is also subjective. Carson himself has even admitted throughout the course that his creative decisions are "subjective calls". While this may not be an issue for some, those who are seeking concrete advice might find it difficult to relate.
Confusing advice
In addition to how some of the creative advice given is subjective, there are also times when David Carson made a few confusing and contradictory pieces of advice. One example is when Carson spent a reasonable amount of time giving you tips and tricks on how to avoid being obvious.
Yet in another lesson, he talks about why going down the obvious route has made one of his works stronger.
Less tech-focused
A downside of the course is its lack of technical focus. While David Carson has brought up graphic design apps and programs, they were only passing comments.
Overall, the course explores very little of the technical side of graphic design. Maybe it might be unrealistic to expect a full tutorial on software in this course, but it would've been nice if he spent a little time talking through the tech as well.
How Much Does The Course Cost?
Just like every other MasterClass course, each member is presented with two options. You can either buy the course on its own for $90 or you can opt to pay for a year of all-access pass subscription to every course on MasterClass for $180 a year.
Option 1 – $90 for a Standalone David Carson's MasterClass
The course itself is 2 hours and if you break it down to an hourly rate, The MasterClass course ends up costing a rate of $45 an hour. That's a very competitive price compared to signing up for a graphic designing course, let alone learning from one of the greatest designers alive.
The course offers an unbeatable value, especially since you get to learn at the comfort of your own home and at your own pace. You can choose to take as much time to pause and practice as you need.
To buy this course individually, you'll need to buy it as a gift, and gift the course to yourself. Furthermore, you get lifetime access to David Carson MasterClass, meaning you get to dip in and out or revisit it anytime you like.
Option 2 – $180 a year for a MasterClass Subscription for the Whole Year
The second option to getting access to David Carson MasterClass is by subscribing to an annual all-access pass for $180. This works out to be about $15 per month for an all-inclusive access pass to lessons by the best experts in the world.
This subscription will give you access to an excellent cooking course by Gordon Ramsay, jaw-dropping game of poker by Phil Ivey, jazz piano lessons from Herbie, and how to be a comedian by David Sedaris. As long as you're able to find at least 4-6 courses you like from the website, you're effectively only paying $30-45 per course.
MasterClass is an absolute goldmine of information with courses taught by world-class experts at a very reduced price. Nonetheless, if you're worried about the commitment, the website includes a refund policy just in case you decided that the course is not suitable for you.
What Others Have Said
No review is complete without considering what others have said about the course. A quick Google search has resulted in a few interesting points with a mixed reception.
"Love David Carson but he's not the right teacher if you're new to design. Learn the rules first, then break them" — Comment from YouTube

"David Carson teaches How to design like David Carson" — Comment from YouTube

"Finally a graphic design master class. I searched through masterclass and found nothing but now I've found it!!! — Comment from YouTube

"I saw this MasterClass and couldn't believe it!! He was/is a great teacher and I am excited to be back in his class almost 40 years later!" — Comment from MasterClass

"This class gave me permission to do something different. I […] find myself doing design work for clients on many occasions. This class came at just the right time and for that, I will be forever grateful!" — Comment from MasterClass
Final Thoughts
This is a great course for those who are a fan of David Carson and his work. It's also a good course for those who want to improve their creative and design techniques. While the MasterClass is aimed toward beginners, anyone in any stage of their designing career will be able to get useful takeaways from this course to help make their work stand out.
Overall, this course provides a fascinating overview of David's career and his designing techniques supported by examples from his own work and the work of other designers.
Frequently Asked Questions
How much does the MasterClass cost?
The all-access pass costs $180 (about $15 a month) which gives you full access to more than 100 different courses on the site for an entire year.
How long is the course?
David Carson's masterClass is 2 hours and 7 minutes long.